Castle
Information
Where
Behind Sports Field and Volcano
Opened
April 2008
Mini-Games
N/A
Music
 ?
Tour Description

1) Here we are in the grand, old Panfu Castle.

2) No one knows for sure how many rooms there are in the Castle but there are certainly a lot! 3) On the river bank, you can play the game called Cast Away.

4) If you walk through the big castle gates, you will enter the Castle Courtyard.
Castle, often referred to as The Castle, is a room in Panfu. It is one of the most visited rooms in Panfu along with the City, San Franpanfu, Swimming Pool and Beach. From the Castle you can access another room by entering it - the courtyard. In the Coutryard you can access the game City Runner, also called City Jumper. You can also access another room - the castle terrace. From the Castle Terrace you can visit Paul at Paul's Room and Kamaria at the Castle Tower.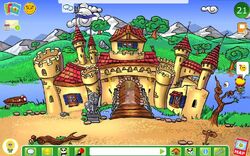 The Panfu Castle as of 2012.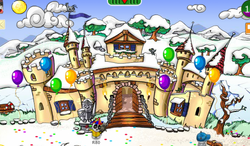 The Panfu Castle on New Year's 2011 (December 31st, 2011 and January 1st, 2012).
Ad blocker interference detected!
Wikia is a free-to-use site that makes money from advertising. We have a modified experience for viewers using ad blockers

Wikia is not accessible if you've made further modifications. Remove the custom ad blocker rule(s) and the page will load as expected.