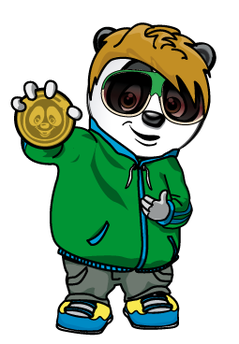 Pandas with Gold Package,also known as Gold Pandas,are pandas that are given the opportunity to do more things than normal pandas.To become a Gold Panda,a panda must get a Gold Package and therefore pay for it.Pandas who have went through the paying operation get a special code messaged at the email they have provided and get a special Gold Package Code which can be used in the game for activating a Gold Package and thus becoming a Gold Panda.The code can be entered by going on the Options tab while in the game.That tab is located in the down side of the screen.Then the panda is asked to choose from a list of options and can activate the Gold Package.
Pandas who have the Gold Package - are Gold Pandas,can do the following special stuff that ordinary pandas can't:
Buying clothes,furniture items,bollies and houses from catalogs/catalogues.
Riding a car/vehicle from the Panfu Race Track.
Playing exclusive games and visiting exclusive places.
Riding a horse or unicorn.
Using all features of the levels and their awards,
Using all the emotes from the list of emotes on Panfu.
Decorating tree houses and styling your panda player.

​The following is the price for the Gold Package in some popular currencies.The Gold Package can be brought for 1 month,3 months,6 months and 12 months respecitvely.
Prices USD
12 months* $4.90 USD -50%
6 months* $5.90 USD -40%
3 months* $7.90 USD -20%
1 month* $9.90 USD
Prices EUR
12 months** €4.90 EUR-50%

6 months** €5.90 EUR-40%

3 months** €7.90 EUR -20%

1 month** €4.90 EUR
Prices AUD
12 months** $12 months* 4.90 -50%
6 months** $5.90 AUD -40%

3 months** $7.90 AUD -20%

1 month** $4.90 AUD
Prices GBP
12 months** £4.90 GPB -50%
6 months** £5.90 GPB -40%
3 months** £7.90 GPB -20%

1 month** £4.90 GPB